ONG41008
About ONG41008
ONG41008 is a new drug candidate which has therapeutic efficacy to both Idiopathic Pulmonary Fibrosis (IPF) and NonAlcoholic SteatoHepatitis (NASH).
It's a new molecule that can be protected by patents from around the world
It's on the path to finalize the Discovery phase and move to the Preclinical phase.
Idiopathic Pulmonary Fibrosis (IPF)
Idiopathic Pulmonary Fibrosis (IPF) is a progressive chronic interstitial lung disease with a high mortality rate. It is a rare disease with a high medical unmet need because there is no cure. (More Information : ONG21001 family )
NonAlcoholic SteatoHepatitis (NASH)
Nonalcoholic fatty liver disease (NAFLD) is a condition in which excess fat is stored in your liver due to causes other than drinking.
NASH is a form of NAFLD that causes fibrosis due to liver inflammation and cell damage.
Between 30%~40% of adults in the United States have NAFLD and about 3%~12% of adults in the United States have NASH.
NASH can lead to complications, such as cirrhosis and liver cancer. If NASH leads to cirrhosis, and cirrhosis leads to liver failure that could leading to death.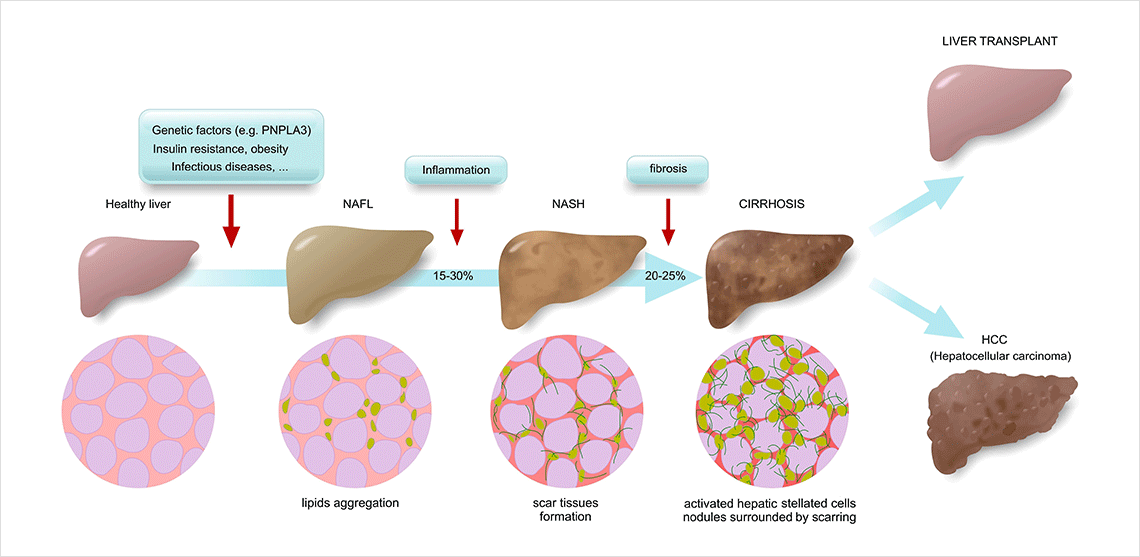 Market information
There are no approved therapeutic.
The market was valued at US$ 0.7bn in 2016, and is expected to reach US$ 20bn by 2025, expanding at a CAGR of 46.1% from 2017 to 2025. (Source: Research and Markets)
Alarming rise in the diabetes and obesity prevalence would act as a driving factor for the growth of the market.
The Mechanism of ONG41008
The entire MOA is undefined. But one of the discovered roles of ONG41008 is an EMT inhibitor.
In vitro data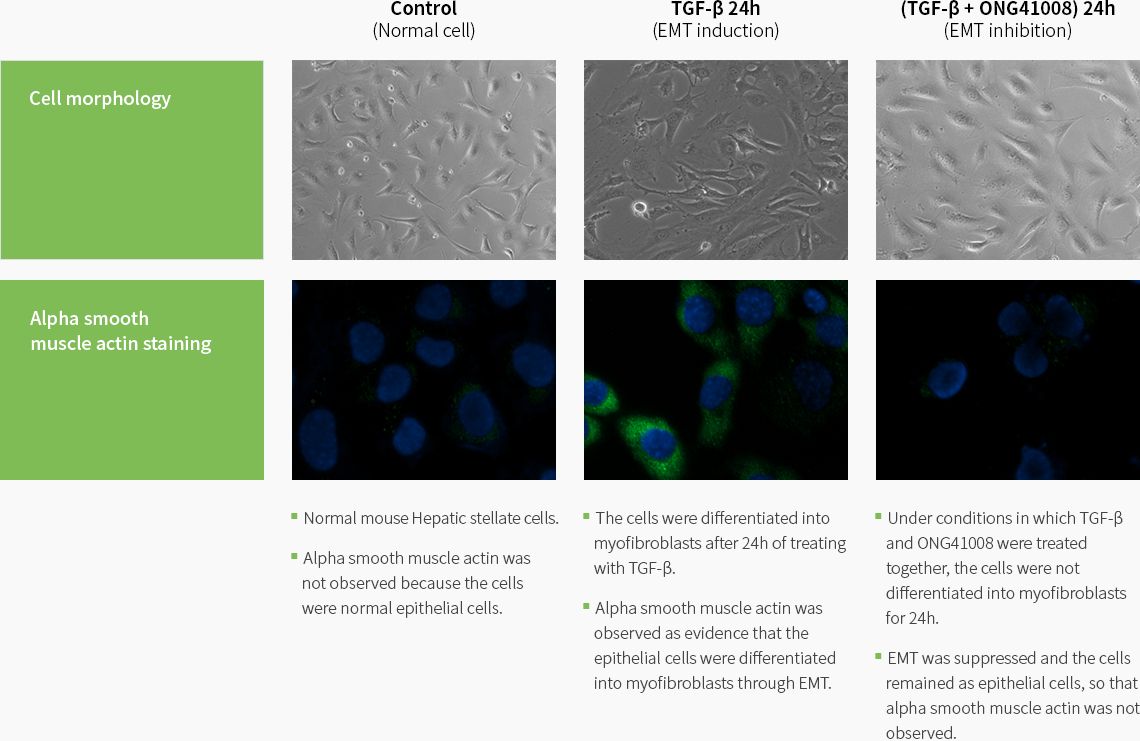 In vivo data – IPF
A comparative study of the efficacy of ONG41008 and Pirfenidon in a mouse model of pulmonary fibrosis induced by bleomycin.
ONG41008 showed better therapeutic efficacy than Pirfenidon, the best-selling IPF drug.
In vivo data – NASH

It's the results of therapeutic efficacy test using NASH-induced mouse model (STAM mouse).
ONG41008 reduced the area of ​​ballooning caused by excessive fat accumulation in the liver.
Overall, ONG41008 significantly reduced the NAFLD scores, demonstrated its potential as a new drug for NASH.